I weighed in on this thread for two reasons.
One, we had a Honda 600.
Two, we have an OBD-I vehicle similar to the '94 Metro he used as a power plant.
7113 wrote:
I have a 1994 G10 motor in a 1971 Honda N600 Sedan. Because of a lack of space I relocated the IAC solenoid on the fire wall. I can now hear the solenoid "tick" open and close. What is odd to me is it opens and closes continuously even above a few thousand RPMs. Is this correct? I would think it would be always closed if the engine is above idle. At idle it functions correctly, bring the idle up when there is a load on the engine like the fan coming on.
Nothing in the FSM addresses this.
Thanks for any help. Maybe someone can give a listen to their motor to see if this is typical.
This is addressed in the FSM on page 6 of the fuel metering section...or are you trying to see if we remember?
When you ask for help with a highly modified car/powerplant transplant make sure you include all salient issues.
In this case, you failed to note if the vehicle was standard or enhanced emissions.
Better, you could have included pictures showing your modified set up.
Asking people to go listen to their car, seriously?
Better you post a video of yours.
After all, you're the one asking for help.
The members here are pretty sharp.
So the more information you include with a question or problem, the better your answers will be.
7113 wrote:
The circuit works perfectly at idle. I only have the fan connected to the diode circuit and all is good. When the fan comes on at idle the ECU will compensate and bring the idle up to 850 to 1000 rpm. My question is what happens when the rpm's are above a few thousand. It is here that I can still hear the IAC solenoid contiguously open and closing. I would think it would be just stay closed once the engine was above idle.

You will find that your thinking is NOT correct, but it is logical.
The FSM page quoted will explain.
Much better it than me.
You will not listen to me.
7113 wrote:

I get it. Since I have no dtc'c being kicked I will check that the ECT leads are between 190 and 400 ohms with the engine warmed up.

I'm liking this guy.
He listens to the advice on the forum.
Let's see what happens.
7113 wrote:
The problem is at above 1500 rpm the solenoid clicks contentiously speeding up and down with the rpm. Which does not effect the engine performance but I would think the solenoid would burn out doing this.
This can't be right. Any thoughts?

Oops. 'Contentiously'? Is that 'personification'? Are we giving this car personality? Or are you interpreting it as 'contentious'?
We didn't read the book. Or we checked out all the diagrams and thought how neat it was...
This CAN be right.
Where is the logic in your idea that the rapid pulsing from the ECM would burn out the solenoid?
Hint: The solenoid would last longer.
Can you figure out why?
7113 wrote:
Not sure what your asking. This car does not get smogged so I don't know what the nox reading are. I can replace the EGR system in a few minutes but what effect would that have on the IAC solenoids operation?

Just because your car isn't REQUIRED to be smogged, doesn't mean you can't have it sniffed.
Actually, it would help you KNOW if it is running great or not.
Tailpipe emissions will tell the readership exactly how great it is actually running.
You saying that it runs great is meaningless.
That's why they created exhaust sniffers.
Duh.
With all the money you spent on the car, why wouldn't you shell out a few bucks to find out what she blows?
That's the final test of good mechanic - see what she blows.
Do you even know how much it would cost?
You disabled the EGR, seriously?
I realize that the EGR has a bad reputation with the over 60 V-8 crowd, but if you go back and read the 4 pages of Section C-7 you will understand that there is NO downside to hooking it up.
Indeed, if you hook it up your car will burn cooler and last longer because of lower combustion chamber temperatures.
There are many many posts of burned exhaust valves from people who did exactly the same thing as you.
Learn from their mistakes and take care not to repeat them with your carefully crafted and treasured Honda 600.
I'd like to see you use this as a reliable and fun car.
It would be nice to trick it out.
As you know, there is a huge aftermarket support group here at Teamswift and GMF.
Indeed, you have many more posts over there.
I'm surprised no one has answered your question over there.
You might even read the answer and post it at the conclusion of this thread so that the others will know why you hear that 'buzzing' sound.
Look through some of 87 Octane's posts.
He has really shown how sharp he is.
At first he was against all things smog.
Now, he knows what the heck he's doing and why.
I am no different than you.
Years ago I hated all things smog.
Eventually, I learned about emissions equipment and why it is useful.
Now, I'm not scared of smog a bit.
I know what should be done and why.
When I run a car in for smog, it is to test how well I did my job.
Rarely will one of my cars fail.
Your transplant with OBD-I parts was more difficult than with OBD-II, as you'd have more sensors and better emissions monitoring.
Now that you're a part of the State of California, try to embrace the technology which puts clean burning power plants on the road safely.
Let go of the "I hate smog" past.
Your engine will thank you for it and look more like this inside:
even though it is pretty dirty on the outside: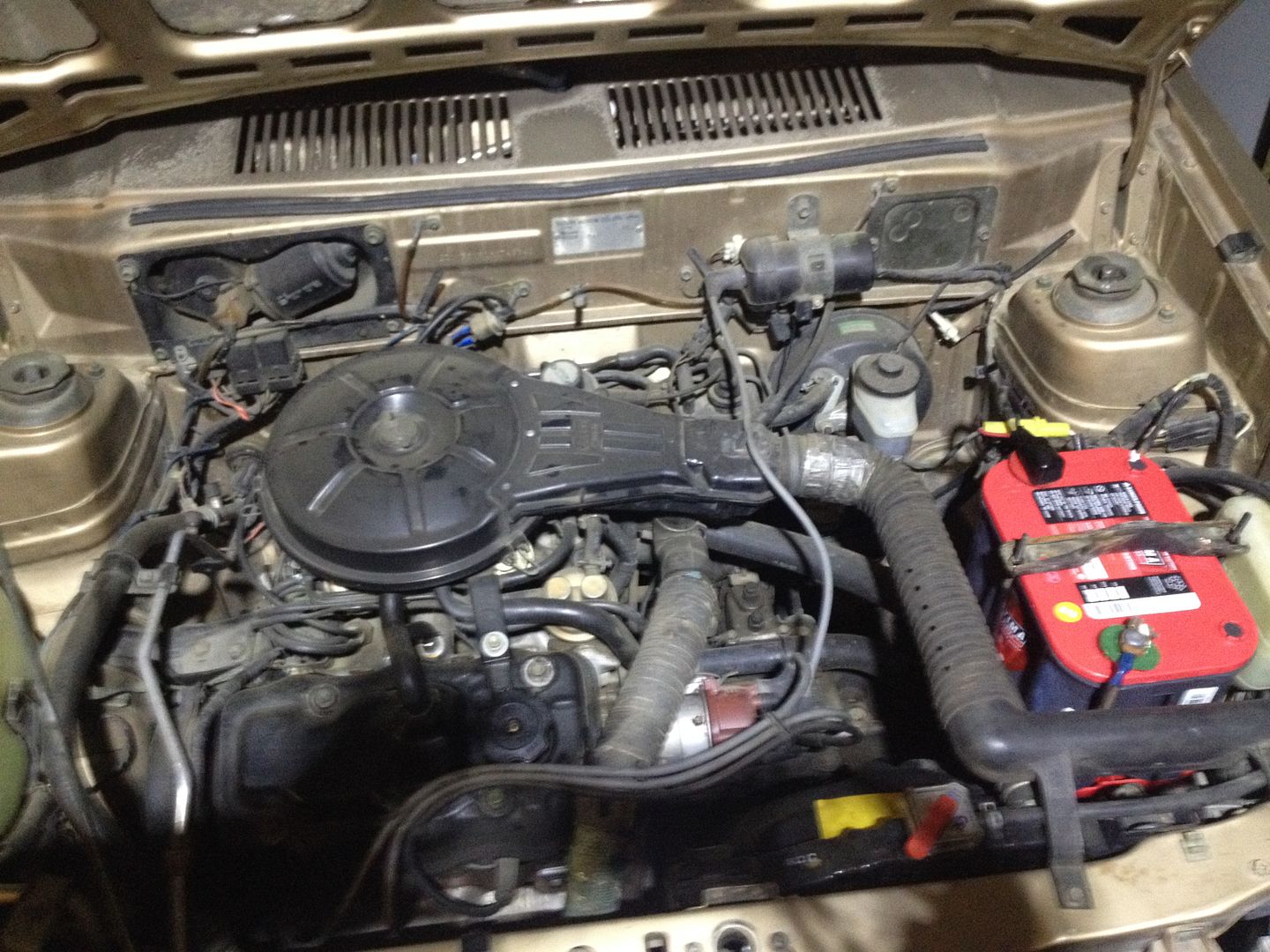 I'm no expert, but I've been licensed by the State of California to smog cars for over 30 years...
On this site:
http://geometroforum.com/index/
they call me member #15...and on this site,
I'm absolutely nobody!
There's a meet in December about 40 miles due West (210/134/101) which might put you in with an appreciative crowd:
viewtopic.php?f=23&t=54827
These links may save you some time:
https://docs.google.com/file/d/0ByZnrvy ... prN2s/edit
https://docs.google.com/file/d/0ByZnrvy ... RpYU0/edit
(Concentrate on page 6 here):
https://docs.google.com/file/d/0ByZnrvy ... czSG8/edit
Class dismissed.