Mods please move this to the MK1 section.
It sounds like your carburetor isn't adjusted properly.
Have your friend get a somewhat long Phillip's screwdriver and adjust the warm idle to 850rpm, or whatever is indicated on your underhood sticker.
You will need to do a compression test, obtain a timing light and (as you mentioned) a vacuum gauge to adjust it properly from there.
Until then, there's a screw to increase the idle which you can access from behind the air horn of the air cleaner (missing in your photo).
It isn't easy to find, so study this picture well.
You are looking at a throttle body, and it has two holes - a large one and a small one.
Immediately below the small one is a phillip's head screw facing the right side of the throttle body: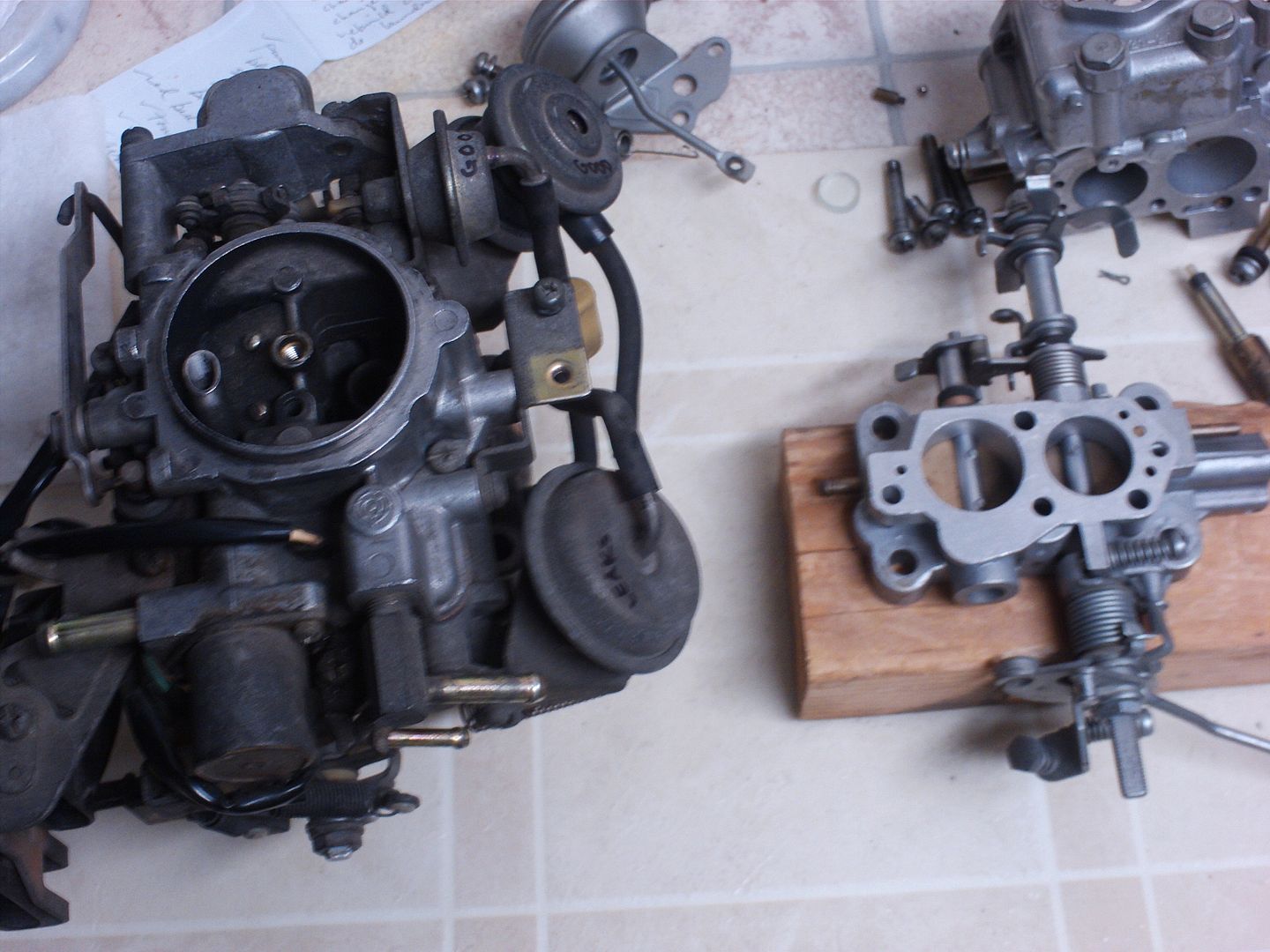 Once the vehicle is warmed up, that is the screw you use to adjust the warm idle.
Screw it in to speed up the engine, and out to slow it down.
It won't adjust until the coolant has warmed up and shouldn't be adjusted too radically.
Straight pipes are not something recommended by the Moderators here and an insult to most of the well meaning automobile mechanics/technicians throughout the U.S. who do a great job of repairing vehicles day in and day out. If you are poor, I get it, but you should show society your willingness to repair a car in a manner which won't smell them out when they are behind you at a stop light. So save some money for a catalytic converter and install one when you can. You are young; as you age you will appreciate being able to run up and down the road without women politicians restricting you from repairing cars if you take my advice. Moderator T3ragtop and others are especially militant about not running a catalytic converter because it is against Federal law, unnecessarily puts pollutants into the air, doesn't detract from performance, is what they do in Ohio, shows how wise they are as mechanics, etc. etc. etc. Enough said on catalytic converters - when you get a little cash, have one put on your car and other motorists will thank you.
There is nothing wrong with your ECM (car computer). Under the dash is a switch to prove me right.
You flip it and when you turn the key on, but do not start it, there will be a series of flashes.
That will explain if there are any components under the hood attached to the engine which need to be changed.
If you keep this thread civil, we can go into more detail about it.
Another no no that you mention is the use of Seafoam.
Although used on the East Coast, no self respecting West Coast mechanic uses it.
Fortunately, you have straight pipes, and you haven't overwhelmed a catalytic converter with raw HC (Seafoam).
Once you do put a catalytic converter on the car, avoid using any similar product because it will harm the cat, or reduce its useful life.
If you want to lubricate the overhead in a lawn mower, that's your business...ha!
Your engine shakes?
One thing I noticed is that your #3 spark plug wire is not attached to its clip on the valve cover.
You've got the engine cleaned nicely, but you've got to pay more attention to detail with these powerplants.
Put the spark plug wire back, and then check the timing.
After that, check the vacuum at idle and post a video of what the needle does: steady, vibrates or?
After that, you will need to do a compression test.
After that, you will need to adjust the valves.
After that, you can adjust or install a rebuilt carburetor.
Then it will idle rock solid.
Write down this list.
It is written in a logical sequence which takes you from
easy to difficult/cheap to expensive
things to do on your engine.
The carburetor is probably the main problem on your vehicle and an easy test to see if it needs a rebuild can be done without any test equipment.
If you want to know what to look for, be sure to ask in your next post.
Your car will be most reliable if you put it back the way it came off the show room floor.
Crazy as it sounds, you spend money now to fix it right, and then you only drive it and change the fluids regularly.
In the long run it is cheaper than screwing around now, ruining the car, and buying another one to try and repair.
As you are new to the world of car repairs, your attitude should be commended. Stay willing to learn, open minded, and steadily work at getting this OBD-I vehicle back in stock trim.
If you can succeed, the vehicle will last you for 20 years and provide the most economical transportation you can find.
So far, you are ahead of 90% of previous owners, who have tried...failed...and given up because they lost their will to learn.
Almost forgot: everyone now drives large cars, so expect other motorists to try and 'brow beat' you on the road. Gone are the days of defensive driving and road courtesy.
Your revenge?
You will be King of the Pump.